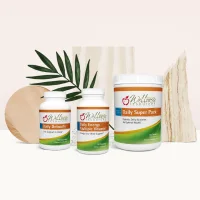 Daily Supplements
Best Daily Supplements for Optimum Health!
Science demonstrates that a wide array of nutrients are essential to maintain health. Also, demands such as stress and pollution take a toll on your health. Using nutrition to compensate for modern life is far different than the idea of simply being deficient in something; rather, this is about maintaining your vital health reserves so you are more likely to maintain good health at any age. Wellness Resources knows this is the basis of anti-aging nutrition and essential for maximizing your genetic potential.*
Wellness Resources Daily Supplements contain the highest quality, most absorbable nutrients for optimum health. It's a quality difference you can actually feel! The Daily Super Pack™ is your foundation for a quality supplement program. It contains individually-wrapped packets of seven essential daily supplements to cover your nutrient needs!